Video
Overview
About
Camp Size: Max 25 (16 surfers)
Accommodation: Private Bungalows & Villas
Daily Meals: Included
Daily Transport: Daily speedboat rides included
Located in front of surf break: 10 min walk Tikus (left)
Destination: Sipora, Mentawai Islands
Surfing Ability: Beginner to advanced
Budget: 4/5
Surf School: Yes
Surfboard Rental: Yes at Resort
Yoga: Yoga classes
Ideal for: Large groups, couples & families
Aloita Resort is situated on a small private island called Simakakang & stands alone as one of the most refined and comfortable resort built in Indonesia's Mentawai Islands.
There are several world class waves within a short speedboat ride of the resort, including the famous left hander Telescopes. Day trips to Playgrounds as well as Lances Left & Right are also possible. There are even a couple of waves you can paddle to right off the island which is also where the resort takes its beginner surfers.
Guests are able to travel to the resort from Padang 4 days a week, making it one of the most accessible resorts in the region.

Ideal for any surfer – the resort is particularly good for families & couples looking for a tropical surf vacation.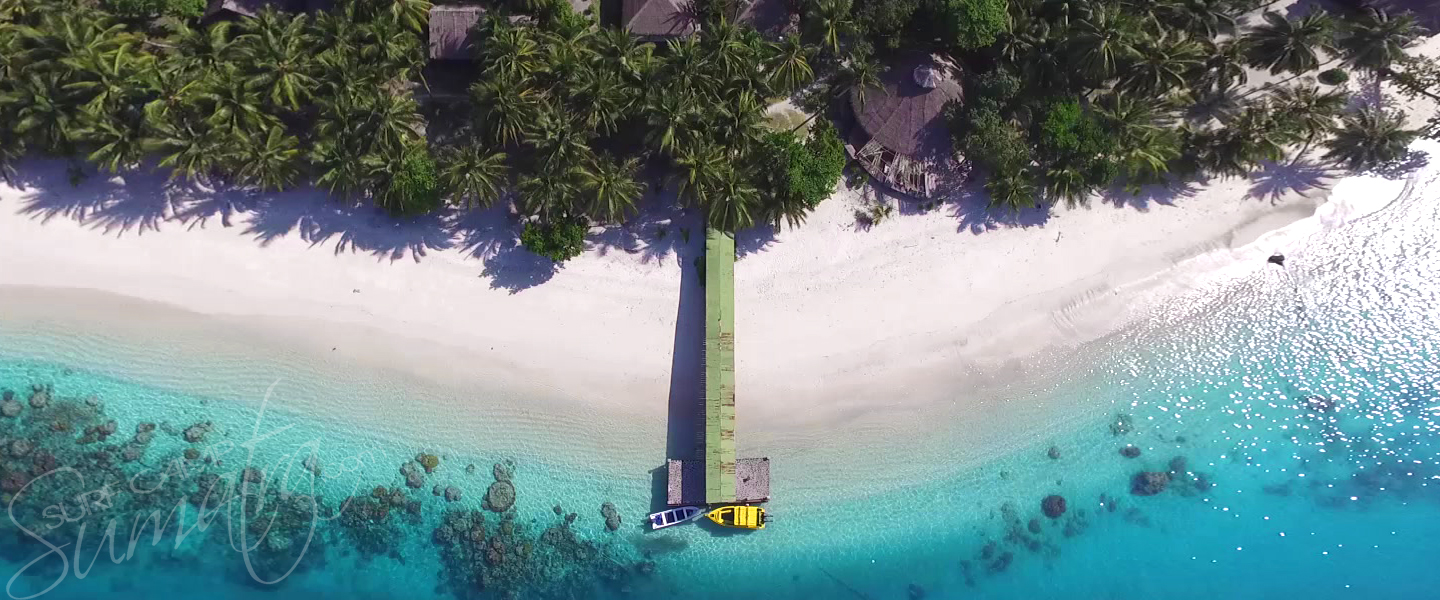 Accommodation
Surrounded by lush tropical vegetation and by a 2km private white sand beach, Aloita Resort offers private bungalows as well as private villas for larger groups and families. All the accommodation is constructed with beautiful local hardwood timber & includes its own large balcony as well as a private pathway to the jaw dropping white sand beach that's just a stone's throw away.
Bungalows - 1-3 guests per bungalow

from 220 / 320 / 450 USD per bungalow
(Kids 0-5 years old free of charge / Kids 6-12 years old 80 USD / pp)
- Price includes 3 delicious, healthy meals -

Includes:
* Fully beachfront with ocean view
* King size or Twin beds + extra bed available
* Private bathroom + open air shower
* Hot water
* Air-Conditioning
* Ceiling fan
* Mosquito nets
* Minibar
* Terrace
* Beach chairs
* Beach towels
* Daily cleaning
Villas - 4-8 guests occupancy

from 460 USD per Villa
(Kids 0-5 years old free of charge)
- Price includes 3 delicious, healthy meals -

Villa AB, 4 rooms open plan, which can host up to 8 guests (children above 5 + adults)
Villa C, 2 rooms, which can host up to 4 guests (children above 5 + adults)
Villa D, 3 rooms, which can host up to 6 guests (children above 5 + adults).

For kids 5 and below they can stay free of charge (although there can not be more than 1-2 on top of maximum guests per Villa as space is limited).
* Fully beachfront with ocean view
* 2 bedroom
* Living room
* Private bathroom + open air shower
* Hot water
* Air-Conditioning
* Ceiling fans
* Mosquito nets
* Minibar
* Large terrace/deck
* Beach chairs
* Beach towels
* Daily cleaning
Restaurant & Bar
Aloita's gorgeous open air restaurant is a wonderful place to enjoy a meal and reflect on the day's activities.

Serving as the hub of the resort, the restaurant overlooks the beach & the calm crystal clear waters of the east side of the island. The open plan layout comes complete with big comfy couches and a beach side deck area, cool tunes, separate bar area as well as a snack & drinks menu.

Breakfast, lunch & dinner are served in the restaurant buffet style with plenty of healthy and delicious meals on offer. Vegetarians can be catered for. And seeing as some of the resorts owners are Italian, it should come as no surprise to find great pride and care in the preparation of the daily meals.
Included in the price:
- 3 large, healthy delicious meals each day
- Unlimited Tea, Coffee & Water

Not included in the price:
- Alcoholic beverages
- Soft drinks
- Extra snacks
Just a short stroll away guests have access to another communal area that's home to a number of seating options hat are ideal for reading a book or catching up on some emails. here's also a pool table and a TV to entertain the kids!
Facilities


Available facilities:
- Daily Boat rides to the surf (surfers package only)
- Restaurant & Bar
- Big couches and chill out areas
- Separate bar snack & drinks menu
- Pool table
- Stand Up Paddle Boards: 2 x SUP's: 9'0 * 30' * 3,9' and 4 x SUP's: 10'0 * 32' * 4,2'.
- WiFi
Also available with additional charge:

- Snorkeling Gear
- Diving*
- Surfboard rental
- Yoga Classes
- Surf Lessons

*Dive tanks and equipment are available but instructors are not available at the resort.
Lessons & Rentals
Rentals

Aloita Resort has a small variety of boards for rent: soft tops for beginners/surf school, a couple of minimals (7'4" and 7'6"), and 6 or 7 shortboards in the range of 5'9" to 6'4" (24 to 32 litres). As the board of your choice might be rented by another guest during your stay or under repair, we suggest to contact us a week before your arrival to check availability. Though we will do our best to accommodate your request, we do not take any responsibility if any board turns to be not available.
Soft Top rentals (learner boards)
Price: 20/30/150 USD half day/day/weekly.
Mini Mal rentals
Price: 30/40/200 USD half day/day/weekly.
Shortboard rentals
Price: 30/40/200 USD half day/day/week
Surf Lessons

Aloita Resort is proud to be one of the only resorts in the Mentawai Islands that offer surf lessons for beginners. Shared and private lessons are available for all levels and board hire is included. Lessons are tailor made to suit your needs but generally have the following format;
Level 1 - $50 pp
The introductory level 1 surf lesson will teach you the fundamentals of catching waves and help you familiarise yourself with the board from the safety of the beach. Before entering the ocean for the first time, it's essential to understand every aspect of safety and much more. Guests will then be transported down to the learner wave which is just a short 5 minute boat ride away. Beginners will be get firsthand experience in the surf under the watchful eye of our surf instructor.
Level 2 - $50 pp
Once you've completed level 1, our guests will spend the majority of the lesson in the surf with an emphasis of getting more comfortable in the ocean and a focus on perfecting your pop up! Learn how to start trimming along the wave and how to make slight adjustments on your board to maintain speed and increase your length of ride. Beginners will learn a little more each lesson with a focus on understanding where the waves break and the factors affecting the surf.
Level 3 - $50 pp
Once the basics are understood, surfing is largely about repetition. This course aims to strengthen your foundations in order to help you progress with confidence and have as much fun as possible!
Yoga Lessons

Enjoy panoramic ocean vistas or take in a sunrise class at Aloita's Yoga Shala

Aloita Resort offers 2 daily Yoga classes in a beautiful Yoga Shala just a few steps away from the ocean. Open to all levels, each class can be tailor made to suit the guest's needs.

Single Class (30 min) USD 10
Single Class (60 min) USD 20
5 Class Pass USD 90
10 Class Pass USD 150
5 x pre/post surf warm up / stretch USD 90
Private class pilates or yoga (1:1) USD 50
Surf Package
Surfer Package - USD 70 pp / day (Approx. AUD 99)
Includes:
* 2 daily surf sessions by speedboat
* Experienced surf guide
* Mentawai Surf Tax (approx. USD 80 pp)
Optional surf photography packages are available. Days should be chosen in advance, as the number of surfers in Aloita is restricted to 16 people. Days must be consecutive.
Each guest opting for the "Surfer package" will have daily boat rides to the surf included.

During the 2019 season Aloita Resort upgraded their fleet to 3 speed boats. These include 2 high speed boats for the intermediate to advanced guests (up to 16 surfers) & 1 smaller boat for the beginners.

The first session will depart Aloita between 6.30am and 8am depending on what's agreed the evening before. Guests will return back to the resort for lunch, usually by 12pm. The afternoon session departs around 2-3pm and returns back just before dark. The decision on where to surf will depend on the surf guide & what the group/majority would like to do.


There are so many different waves within striking distance of Northern Sipora that there is something for everyone. There are around 9 waves that are within 5-20 minutes of each other with the majority being left handers. The region certainly suits an intermediate surfer or a surfing family that are looking for the least crowded waves in the Mentawai Islands.

Aloita Resort also caters for beginners, which is a rarity in the Mentawais.

For an additional charge, guests can also head to South Sipora (Lances left and Lances right) in around 1.5 hours – or north to "Playgrounds" in around 1 hour (20+ waves including Rifles etc).
The Surf

There's around 9 waves (mainly lefts) that are within 5-20 minutes from Aloita Resort.

Detailed information for all the surf breaks can be found in the destination's section of the site within the North Sipora pages: Aloita Resort Surf Breaks

Although there aren't as many waves in the direct vicinity as *playgrounds* - there's a nice variation of lefts and rights with differing ferocity. There's certainly something for everyone – including beginners (a short walk away from the resort), which is a rarity in the Mentawai Islands. It's also much less crowded than its neighbouring more famous surfing areas found in the Mentawai Island chain, so you'll arguably get more waves.

Tikus (above) is just a short stroll from the resort and is ideal for beginners and those looking for a cruisey surf when the main spots are maxing out.

The crown jewel of the region is Telescopes (above) thats just a 15-20 minute speedboat ride away.

Whats more is that South Sipora (Lances left and Lances right) is just 1 hour South – and that "Playgrounds" is just 1 hour North (20+ waves including Rifles etc) culminating in a vast amount of waves on offer.

Travelling to Sumatra


Guests need to fly into Padang Airport (PDG), West Sumatra
We recommend using https://www.skyscanner.net/ and flying into either Kuala Lumpur, Malaysia - or Jakarta, Indonesia. From KL, there is usually one morning flight (1hr) with Air Asia as well as a lunchtime flight to Padang. From Jakarta, there are over a dozen flights each day that fly into Padang, from airlines such as Garuda Airlines, Sriwijaya, Citilink & Lion Air. We recommend www.nusatrip.com
Note: Visa On Arrival: A FREE 30 day Visa On Arrival is now available for the following countries: Australia, USA, Brazil, South Africa, New Zealand, Canada, Peru, Costa Rica, Spain, Portugal, Italy, Ireland, England, France, Switzerland, Sweden and Germany. To see the full list visit this link: http://www.topbali.com/indonesia-free-visa-entry/
Airport to Resort
"All inclusive" transfer package:

USD 80 per person "each way" (approx. AUD 115)

Aloita Resort offers an ALL-IN transfer package from the airport in Padang to Aloita and return. This includes all transfers from the airport to your hotel and to the harbour the following morning. It also includes the Mentawai Fast ferry ticket, 15 Kg luggage allowance, 15 Kg board bag allowance (1 piece) and porters. it also includes the 15 minute speedboat ride from the harbor in the Mentawais to the resort.
Includes:
- Airport collection
- Taxi to Hotel & Taxi to Ferry
- Ferry Ticket (Padang to Tua Pejat, Sipora)
- *15 Kg luggage allowance, *15 Kg board bag allowance (1 piece) and porters
- Speedboat transfer from Tua Pejat (Mentawai port) – the resort

*Please be aware that any weight over this incurs an extra charge for the guest.
Does NOT include any hotels in Padang.

Your transfers in detail
Padang Airport (PDG)
Upon arrival at Padang's Minangkabau International Airport, you will be greeted by one of Aloita Resorts staff members with pre-arranged transport and you'll be taken to your hotel. From this point they will help with any pre-departure needs, like accessing money, where to eat or simply explore this unique and colourful city for a genuine Indonesian experience.
Padang Hotel (extra cost)
Note: All guests will need to spend their first night and last night in Padang. That said, hotels are very affordable and even the best hotels are around $60 for 2 guests including breakfast. We suggest staying at either of the following hotels:
D'Oxville HOTEL - https://oxvillehotel.com/

MERCURE HOTEL - www.mercurepadang.com/

Mentawai Fast Ferry
You'll be collected from your hotel and taken to the ferry port the next morning around 6.00am. The port is very close to where the hotels are found - it's just a short 5-10 minute taxi ride.
Mentawai Fast Ferry - departure times:
Padang – Tua Pejat: Monday, depart 06.30am
Padang – Tua Pejat: Wednesday, depart 06.30am
Padang – Tua Pejat: Friday, depart 07.00am
Padang – Tua Pejat: Sunday, depart 07.00am
Tua Pejat – Padang: Monday depart 14.30pm
Tua Pejat – Padang: Wednesday depart 14.30pm
Tua Pejat – Padang: Friday depart 14.30pm
Tua Pejat – Padang: Sunday depart 14.30pm
The Ferry crossing time takes around 3 to 4 hours. Guests will arrive in Tua Pejat (Mentawai Port) around 10am, where their staff will be waiting to transfer all the baggage to the speedboat and take you to Aloita Resort, arriving around 10.30am. Crossing times are subject to weather conditions and delays can happen.
On return, guests will depart the resort around lunchtime (with the speedboat) to take the Ferry at 2.30pm. The arrival time in Padang will be approx 6.15pm. Their staff member will transfer you to your hotel as well as the airport the next morning. (Hotel and meals in Padang are not included.)
Speed Boat - from Padang to the resort directly
A private speedboat is available (as an alternative to the fast ferry) - for crossing for groups of up to 12 surfers, starting from around USD 1,800 (tbc). The boat will head straight to Aloita Resort and the crossing time usually takes 3 to 5 hours. This is always done in the morning; however the crossing can be postponed due to weather conditions.
"Rubber time"
Indonesian transport is renowned for being erratic, with this in mind delays and re-scheduling are an everyday reality concerning public transportation. We will do our best to get you where you need to be asap, but take no responsibility for delays or cancellations due to external circumstances.
Useful stuff
Before booking a trip to Aloita Resort, make sure to check our "Know before you go" section which is a handy page of what to expect as well as a detailed inventory of what to bring.

For those that are unsure what's better a surf charter boat or surf camp, then check out our blog below.