Video
Overview
About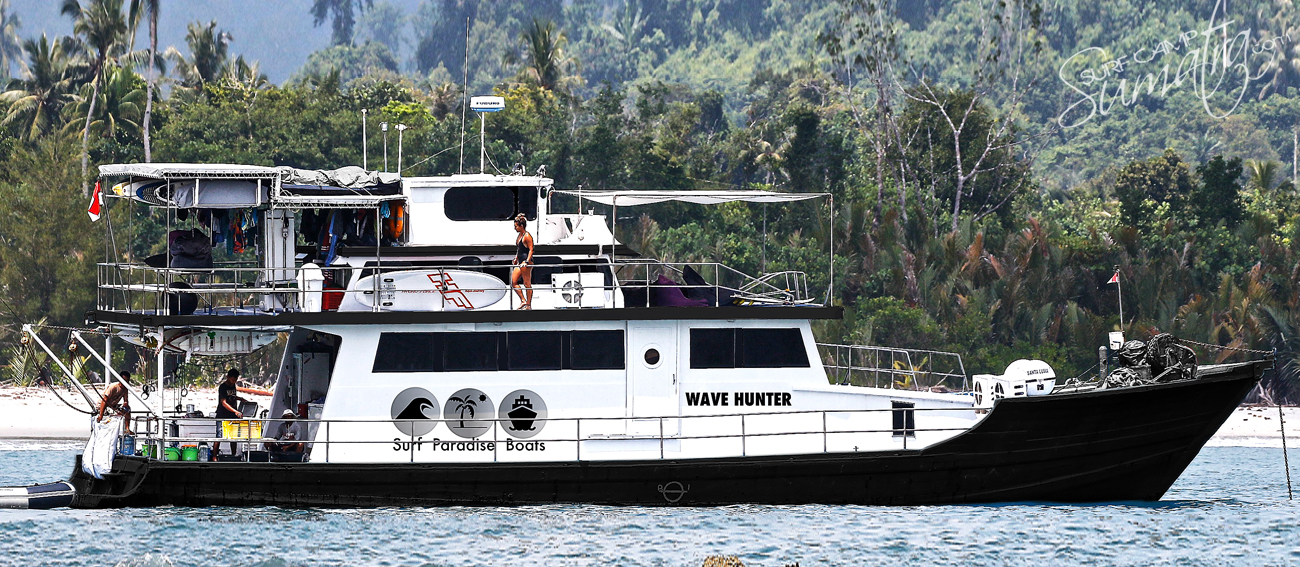 Group Size: Max 12 / Min 8 guests (16 guests on request)
Number of Cabins: 4 cabins (1 large dormitory & 3 private "couple" cabins)
Length of Stay: 11 days surfing / 12 nights on board (extra/less days on request)
Destination: Mentawai, Telo Islands
Surfing Ability: Intermediate to advanced only
Budget: Medium
A/C: Cabins and all common rooms
Photos: $300 pp
Beers: Free 24 beers per person / trip
Tender: 2 x Aluminium boats (40hp)
Port: Padang, West Sumatra

Wave Hunter (formerly "Santa Lusia") is a 65' Indonesian motor boat that offers plenty of amenities & safety features you'd expect from a surf charter in the Mentawai region. This reputable vessel boasts 2 outside decks (covered and uncovered) and has a/c throughout its interior cabins & lounge/dining area to keep its guests cool.

Samia & Marco (the owners since 2015) have been consistently updating & improving the vessel since its acquisition, guaranteeing a quality service, especially since they are both very hands on with each trip. In 2019 they completed a full refit when they also changed the name to Wave Hunter.
Accommodation


Interior

Wave Hunter has enough space to sleep 16 guests but each trip is typically limited to a maximum of 12 guests. This means extra space on board and less guys in the line-up. It also means more privacy on board. For groups booking the whole vessel, that are looking to bring more than 12 guests it's possible to bring up to 16! This is a great option for multiple families who are bringing children as there is a large dormitory as well as 3 private cabins for couples.

Sleeping quarters:

1 x Dormitory with 10 single beds & 1 double bed
3 x couple cabins
Fully air-conditioned
Lounge/dining room with TV, DVD and stereo
One inside bathroom with shower (warm water), basin & toilet
Exterior
Wave Hunter boasts plenty of outside deck areas for its guests to relax, watch the surf & enjoy a few sunset beers. With a deck area at the front and rear of the charter boat, each space offers plenty of room for all its guests. Although mainly covered from the sun, there are areas for both sun lovers and those a little more sensitive to the regions tropical rays. There is also a large shaded area at the back of the boat to fish from.

Also, one outside shower.


Food


Included in all packages:
3 large, healthy delicious meals are served each day
A mix of Indonesian, Mexican, Brazilian & Western cuisine served for breakfast, lunch & dinner. Vegetarians can be catered for (given prior notice)
Plenty of Snacks, Juices & soft drinks
Unlimited Tea, Coffee & Water
24 beers pp / trip
Additional beers will be available for purchase on board (cost price)


Specifications


Length Overall (LOA): 65 feet
Construction: Fibreglass & Wooden Boat
Marine Engine: 2 x Mitsubishi 622's with 280 Hp/ Engine
Style: Fibreglass & Wood Indonesian Motor boat (Indonesian Flag)
Cruise speed: 8-10 knots
Generator: 2 x Genset 25kva coupled with Mitsubishi colt Diesel
Electrics: 240v power
Speedboats: 2 x Aluminium boats (40hp)
Extras: 2 fishing rods & some snorkeling gear

Navigation & Saftey


Furuno 24Nm radar
Garmin GPS
Radios VHF and SSB
Life raft for 15 people (SOLAS)
Life Jackets
EPIRB 104Mhz (SOLAS)
Flares
First Aid Kit (with staff on board trained to use it)
Satellite Phone available
Speedboats (2) each made of aluminium (40hp)

Note: Satellite phone is available for emergency use only. If guests want to use it for any other reason, you will be charged. Please note, some areas have mobile signal. Furthermore, some surf resorts have internet access and occasionally it will be possible to use their facilities.



The Crew


Samia and Marco (above) are originally from Brazil but are now based in Bali. They've been operating Wave Hunter since 2015 although both have been working in the Mentawais for over a decade as surf guides, photographer's and videographer's.
The crew of Wave Hunter are also experienced in the Telo Islands.
What to expect
When booking a trip aboard Wave Hunter, guests will have the chance to surf either the Mentawai Islands (the whole region) – or further north to the Telo Islands (as well as parts of the Northern Mentawai). If you're booking a large group then you'll usually get to choose which region. Smaller groups and single surfers should enquire as to which region the charter will be heading to.
Both regions offer an excellent mix of waves, so it's best to check out our destinations pages as well as the surf breaks listed here to get an idea of which region you'd prefer to visit.
Either way, expect plenty of picture perfect barrels breaking in crystal clear bath water, just a stone's throw from palm fringed white sandy shores in a tropical paradise!
With that said, as a rule, the surf is suited more for experienced riders. They keep the status quo & will certainly take more from the long trip to the area. And although the region boasts 100's of mechanical dreamy set-ups, the majority break over sharp coral reef ready to dish out a fresh tattoo given half a chance. This is primarily the reason we don't encourage learners or even progressing beginners to the area. When things go wrong, you'll soon realise that you're very far away from a hospital.
But with so many waves to choose from, intermediates can find the waves of their lives, without running any real risk of injury.
As for the advanced surfer - the world really is your oyster!
The Surf
Detailed information for all the surf breaks can be found in the destination's section of the site within the Mentawai & Telo pages.

* Surf Breaks - Mentawai (Playgrounds)
* Surf Breaks - Telo Islands


Travelling to Sumatra


Guests need to fly into Padang Airport, West Sumatra
Arrival into Padang by (latest) 1pm (day 1)
The boat departs at 6pm. Departure flights should be from 1pm (onwards) on the last day of the trip.
Flights
We recommend using www.skyscanner.com and flying into either Kuala Lumpur, Malaysia - or Jakarta, Indonesia. From KL, there is usually one morning flight (1hr) with Air Asia as well as a lunchtime flight to Padang.

From Jakarta, there are over a dozen flights each day that fly into Padang, from airlines such as Garuda Airlines, Srwijaya, Citilink & Lion Air. We recommend www.nusatrip.com

Note: Visa On Arrival: A FREE 30 day Visa On Arrival is now available for a number of countries including: Australia, USA, Brazil, South Africa, New Zealand, Canada, Peru, Costa Rica, Spain, Portugal, Italy, Ireland, England, France, Switzerland, Sweden and Germany.
The Boat trip


Arrive Padang airport by 1pm.
One of our staff will be waiting to take you to the harbour.
Depart harbour 6pm, arrive Mentawai Islands early the next morning.
12 nights / 11 days surfing
Return back to Padang early morning.
One of our reps will take you to the airport or hotel of choice
Fly anytime after 1pm.
Note: The trip has no fixed route as the surf conditions can change day to day. Our experienced crew are always aware of the swell forecast and will update everybody each day to discuss the next move. The captain will usually change location during the night, leaving the opportunity for the guests to enjoy most of the day surfing.
Useful stuff
Before booking a trip aboard Wave Hunter, make sure to check our "Know before you go" section which is a handy page of what to expect as well as a detailed inventory of what to bring.

For those that need some help in choosing the right surf charter boat or those that are unsure what's better a surf charter boat or surf camp, then check out both our blogs below.