Video
Overview
About

D'Bora anchored up

Group Size: 10 guests (12 on request)
Number of Cabins: 2 x private cabins & 1 large dormitory
Length of Stay: 11 days surfing, 12 nights on board
Destination: Mentawai islands (Telo on request)
Surfing Ability: Intermediate to advanced
Budget: Medium
A/C: All interior & cabins
Photos: Complimentary photos for all trips in 2023
Beers: 3 complimentary Bintang's per day
Tender: 17-ft aluminium tender (175-hp) + 1 rigid hull inflatable (15-hp)
Port: Padang, West Sumatra

D'Bora is an 80 foot surf charter boat that comfortably caters for up to 10 guests (12 on request). Built locally in Padang back in 2007, specifically for surf charters to the Mentawai Islands, she offers plenty of space and comfort for her guests and comes complete with an experienced crew including a Western Surf guide.

Cruise speed aboard D'Bora is standard for the area at around 8-9 knots but where she's moored up, guests also have full use of "Singo", a 17-ft aluminium speedboat that has plenty of juice thanks to it's 175-hp outboard. Singo is used to shuttle between breaks, go fishing and diving as well as checking waves a little further a field. There's also a rigid hull inflatable with 15-hp outboard that's on hand dawn 'til dusk to drop you off and pick you up from the surf.
The well oiled crew are the same guys operating Indo Satu surf charter, with a combined 40 years of experience in the region. Most trips are focused on the waves found in the Mentawai and Telo islands as well as a handful of trips each year that head further north through Nias, the Hinakos and as far north as the Banyak Islands.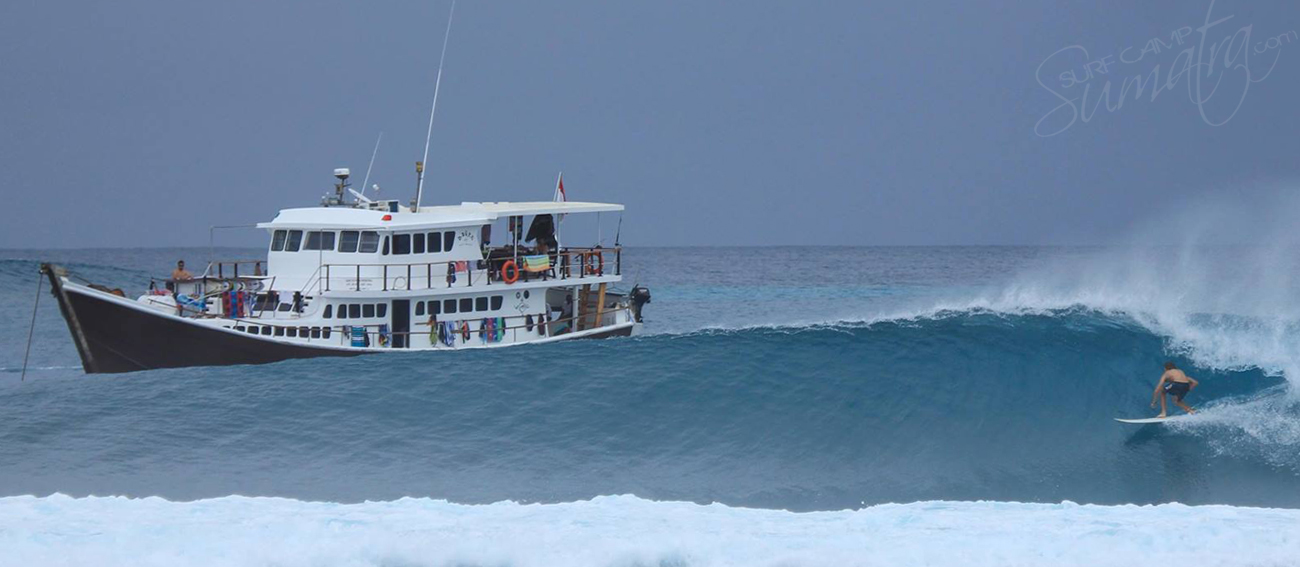 Hollow Trees

Accommodation
Main sleeping cabin

- Air conditioned interior and guest sleep quarters
- 2 x private cabins & 1 large "dorm" style cabin (above)
- 2 bathrooms
- 2 large exterior deck areas
- Interior saloon (a/c) with flat screen TV
D'Bora is a big girl, with plenty of space for it's 10 guests, thanks to 2 large exterior decks as well as an interior saloon and 3 guest cabins.

The main top deck, found at the stern, is the real hub of the boat and is the perfect place to watch the waves & listen to some tunes. Fully shaded, this is also where the majority of the meals are served. There's also a dedicated beer fridge and stereo system! In front of the captains bridge, you'll find another seated deck that's also shaded from the sun & is another great space to enjoy. At the stern there's also an additional area to cast a line from.

Inside you'll find the air conditioned saloon & bar that provides plenty more space to enjoy a movie, to escape from the tropical sun or take shelter from a passing storm.

Below, in the boats bow, you will find the guests air conditioned sleeping quarters. Although capable of sleeping 16 guests, trips are limited to only 10 guests that are spread out between 2 private cabin and the main "dorm" style cabin. This is perfect for spreading out the group and provides extra privacy if thetre are couples on board. Its also nice to put the snorers in the same room together :-)

Saloon & bar



Large top deck



Shaded deck in front of captains bridge
Food & Drink

Dinner is served on the top deck
Included in all packages:
3 large, healthy delicious meals are served each day
A mix of Indonesian and Western cuisine served for breakfast, lunch & dinner. Vegetarians & Vegans can be catered for given prior notice.

Includes:
Daily meals
Snacks, fruit Juices & soft drinks
Unlimited Tea, Coffee and Water
3 complimentary beers per person per day (more can be ordered prior to departure)

Chilling on the "top deck" (left), time to moor up for the night (right)
Inclusions


What's included
* Airport transfers in Padang
* 12 nights on board D'Bora surf charter
* 11 days surfing in the Mentawai, Nias, Telo or Banyak Islands
* Single berth in an a/c cabin
* 3 large, healthy delicious meals served each day
* Unlimited snacks, fruit Juices & soft drinks each day
* Unlimited tea, coffee and water each day
* Speedboat shuttles to the surf from dawn til dusk, all day every day
* Use of fishing and snorkeling equipment
* Fishing & island excursions
* 3 complimentary beers per person per day
* All necessary zone permits

What's not included
* Mentawai Surfer Tax (IDR 1,000,000 pp) - only required in the Mentawais
* Photos approx. $150 per person (if required)
* Flights to and from Padang
* Hotels if needed
* Visa Fees and Departure Tax
* Any additional cost resulting from late arrival or the need of early departure
* Use of satellite phone
* Tips for the crew
Specifications


Vessel Type: Indonesian motor cruiser
Length: 24 metres / 80 ft
Speed Cruising: 8-9 knots
Engine: 8-cylinder Nissan RF8
Generator: 2 x Mitsubishi
Accommodation: 3 guest cabins (16 berth & air conditioned)
Bathrooms: 2
Tender: 17-ft aluminium speedboat ("Singo") with 175-hp outboard + rigid hull inflatable with 15-hp outboard.
Navigation & Safety


Safety Equipment & Navigation

HF and VHF radio
Radar
GPS
Sounder
25-person life raft
Flares
Life jackets
Fire extinguishers
Satellite phone
The crew are all highly experienced and have completed first aid and fire training.
Note: Satellite phone is available for use (approx. USD 3 / minute). Please note, some areas of the region have mobile signal. Furthermore, some surf resorts have internet access and occasionally it will be possible to use their facilities.
What to expect
For guests booking at trip aboard D'Bora, guests will have the chance to surf either the Mentawai Islands (the whole region) – or further north to the Telo Islands (as well as parts of the Northern Mentawai) as well as The Banyak Islands (plus fuel surcharge). If you're booking a large group then you'll usually get to choose which region. Smaller groups and single surfers should enquire as to which region the charter will be heading to.

With that said, the vast majority of trips are to the Mentawai Islands which offers the largest surf region with by far the most waves and the most variety. A handful of trips each year visit the Telos and usually 1-2 trips further North to Nias and the Banyaks Islands.

Note: Banyaks, Nias, Telos charters incur AUD 150/person fuel surcharge.
All regions offer world class waves, although it's best to check out our destinations pages as well as the surf breaks listed there to get an idea of which region you'd prefer to visit.

* Surf Breaks - Mentawai (Playgrounds)
* Surf Breaks - Telo Islands
* Surf breaks - Banyak Islands
The Surf


Detailed information for all the surf breaks can be found in the destination's section of the site within the Mentawai & Telo pages.

* Surf Breaks - Mentawai (Playgrounds)
* Surf Breaks - Telo Islands
Travelling to Sumatra
Guests need to fly into Padang Airport, West Sumatra
Arrival into Padang by (latest) 1pm.
The boat departs at 6pm. Departure flights should be from 1pm (onwards) on the last day of the trip.
Flights
We recommend using www.skyscanner.com and flying into either Kuala Lumpur, Malaysia - or Jakarta, Indonesia. From KL, there is usually one morning flight (1hr) with Air Asia as well as a lunchtime flight to Padang. From Jakarta, there are over a dozen flights each day that fly into Padang, from airlines such as Garuda Airlines (recommended), Sriwijaya, Citilink & Lion Air. We recommend www.nusatrip.com

Note: Visa On Arrival: A FREE 30 day Visa On Arrival is now available for a number of countries including: Australia, USA, Brazil, South Africa, New Zealand, Canada, Peru, Costa Rica, Spain, Portugal, Italy, Ireland, England, France, Switzerland, Sweden and Germany.
The Boat trip


Arrive Padang airport by 1pm.
One of the D'Bora staff will be waiting to take you to the harbor.
Depart harbour 6pm, arrive Mentawai or Telo islands early the next morning (Banyak Islands by request)
12 nights / 11 days surfing
Return back to Padang early morning.
One of the D'Bora reps will take you to the airport or hotel of choice.
Taxi to Padang Airport - fly anytime after 1pm.
Note: The trip has no fixed route as the surf conditions can change day to day. The crew are always aware of the swell forecast and will update everybody each day to discuss the next move. The captain will usually change location during the night, leaving the opportunity for the guests to enjoy most of the day surfing.
Useful stuff
Before booking a trip aboard D'Bora, make sure to check our "Know before you go" section which is a handy page of what to expect as well as a detailed inventory of what to bring.

For those that need some help in choosing the right surf charter boat or those that are unsure what's better a surf charter boat or surf camp, then check out both our blogs below.